ABOUT US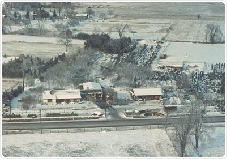 The Garden Factory® in 1974 - 5.2 acres


The Garden Factory® has been part of the Rochester area for over forty years. The original store, which can be seen to the right, was known as Kodisch's Garden Center. It was purchased by Robert and Patricia Martell in March of 1974. The original property was 5.2 acres but has expanded to this day to include 36 acres of indoor shopping area, tropical greenhouse, the nursery, our greenhouses and ample customer parking. Still owned and operated by the Martell family, The Garden Factory over the past 37 years has become one of the largest garden centers on the east coast of the United States.



This growth, is of course in part due to our dedicated and knowledgeable staff, as well as our loyal and long term customers. We would like to thank you for helping to make The Garden Factory a successful business and neighbor in your community. We hope to continue to service our friends and neighbors as we have in the past and hope you enjoy our new website and the information that we have tried to provide you here.


The Garden Factory® in 2011 - 36 acres