Veteran's Day - Friday November 11th, 2016
Veteran's Day is an official United States holiday honoring Armed Service Veterans. It is a Federal holiday that is observed on November 11th. It coincides with other holidays such as, Armistice Day (is a situation where the warring parties agree to stop fighting) or Remembrance Day, which are celebrated in other parts of the world and also mark the anniversary of the signing of the Armistice that ended World War I.
---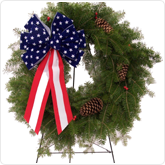 Veteran's Day Wreaths
In preparation for this day, we have made fresh, hand decorated wreaths pre-wired on easels, ready for Veteran's Day that can be placed on the cemetery. Most cemetaries allow wreaths to be placed out on or about November 15th. Check with your cemetary for exact dates.
---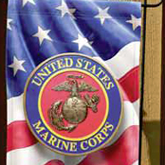 Military Flags
Show your armed services support this Veteran's Day with one of our amazing Military Flags!
---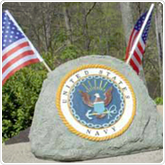 Military Garden Stones
Make a patriotic statement to your yard or garden by adding a beautiful Military Garden Stone.