Holiday Music & Light Show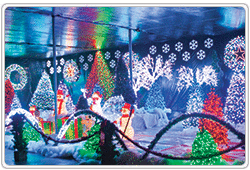 Imagine, if you will, over 100,000 LED lights, enough to cover over five-hundred individual trees, all hung up within one room. One fantastic room, perfectly dark until the switch is flipped and the lights come on, filling the room with lights that sparkle like the stars. Except these lights are multi-colored, reds, greens, blues, every color of the rainbow and more. Imagine this room is full of dazzlingly luminous trees and wreaths, with lights draped across the walls and carpeting the floor.
Now imagine these lights being set to music in a synchronized display, cascading with the melody and pulsing to the beat. This surreal dream is our Holiday Music & Light Show. Set in our heated indoor theater that seats up to 60 people, the show features three-song sets from among eleven holiday songs, ranging from rock opera to the oldies we've all grown up with, so you'll want to return again and again to experience them all. Bring the kids, bring the parents, bring the grandparents, this is a show that is sure to entertain everyone.
Light Show Hours:
Saturdays and Sundays November 30th through December 22rd 11am - 4pm
Admission is $3.00 or 3 tickets per person for ages 4 and up, free for kids 3 and under.