Saint Patrick's Day - Sunday, March 17th, 2019
Saint Patrick's Day, celebrated every year on March 17th, is a holiday that commemorates one of the more well-known patron saints of Ireland, Saint Patrick, and the arrival of Christianity in Ireland. In the United States, it has since developed into a celebration of all things Irish or Irish American. It is said that Saint Patrick used the three-leaved shamrock plant (Oxalis) to explain the Holy Trinity to the Pagan Irish, and has since become synonymous with the holiday.
Here at the Garden Factory® we offer several varieties of Shamrocks, Irish Moss, and seasonal decor to commemorate the holiday.
---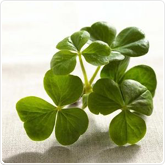 Shamrocks (Oxalis)
Bring a little luck to family, friends, or to your garden with one of our Oxalis (Shamrock) plants! Reasonably easy to grow in most climates, these low maintenance plants look great in gardens, container pots, or as an indoor house plant. Oxalis plants produce beautiful clover-shaped foliage with dainty blossoms and can be planted outdoors after all signs of frost have past. With several different varieties of Shamrock plants to choose from, we are sure that the "Luck of the Irish" will be on your side this St. Paddy's Day.
---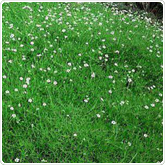 Irish Moss
Give your garden the feel of the Emerald Isle with Irish Moss! This luscious carpet of moss-like foliage produces tiny white flowers that bloom in early summer. Easy to care for, Irish Moss is perfect ground cover for rock gardens or between stepping stones and cracks. Note: Irish Moss is not available until April.
---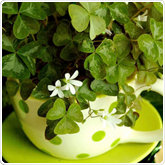 St. Patrick's Day Decor
Looking to add a splash of green to your home this Saint Patrick's Day? Stop in and see our collection of seasonal decorations. From painted planters to festive wreaths, there is a pot of gold waiting for everyone.