Many of the Easter plants that The Garden Factory

®

grows in our greenhouses are hardy for the Rochester area and can be planted outside after you enjoy them for Easter. We have six different kinds of Hydrangea macrophylla this season, three mophead varieties and three lacecap varieties. Just be sure to wait to plant them outside until after the last frost date in May.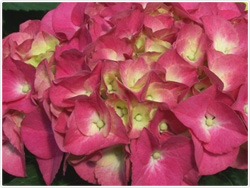 "Firelight" Pink Hydrangea

Mopheads:
'Merrit Supreme' is a pink mophead that is excellent for cutting and drying. Considered semi-dwarf it will reach a height of 3-4ft by 3 ft wide in the landscape. This mophead blooms a little earlier then most.

'Mathilda Gutges' is our blue mophead and is known for achieving cobalt blue color that can not be matched. This hydrangea will reach 4-5 feet and be just as wide. It is a little tender so make sure you plant it in a protected spot and cover it with leaves in the fall. The soil needs to have a pH of 5.0 to 5.5 to get a blue color on the flower heads. When flower buds are the size of a pea, mix 2 tablespoons of aluminum sulfate in one gallon of water and water hydrangea with mixture once a week.

'Firelight' or 'Leuchtfeuer' is a dark pink mophead. This hydrangeas reaches 4-5' tall and has large 8" flower clusters.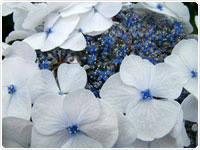 "Libelle" White Lacecap Hydrangea

Lacecaps:
'Blaumiesi' is a Teller series hydrangea and is usually known as Teller Blue or Teller Pink. This is a three foot shrub with long lasting blooms which make nice dried flowers. Be sure to plant in part shade as it will wilt and burn in the hot sun. Soil pH will determine the color of the flowers in the landscape.

'Libelle' is our white lacecap. Expect it to reach about three feet in the landscape. Plant in a protected spot and cover with leaves to help over winter the stems.





"Mona Lisa" Oriental Lily

Easter Lillies:
Our Easter Lilies are also able to be moved into your garden when you are done enjoying their fragrance in the house or at church. You will have to wait until after the last frost date to plant them outside as well. We have three types of hardy lilies this year.

'Mona Lisa' is an Oriental Lily with soft pink flowers that have darker pink veins down the center of each petal and showy speckles. This will reach 14-18" in the garden. Plant in full sun to part shade. Flowers late July-Early August.

'Farolito' is an Oriental Lily with pure pink flowers that have white throats and light maroon spots. This will reach about 18" in the garden. Flowers late July-Early August.

'Nellie White' is the most popular lily grown for Easter and has the classic pure white fragrant trumpet blooms. They will grow about 2 ½' in the landscape and need part shade. Flowers late July-Early August.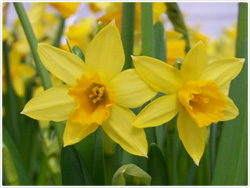 Tete-a-tete Daffodils

Daffodils:
The daffodils and the hyacinth that you get for Easter at The Garden Factory

®

are hardy for Rochester as well. We have 'Tete-a-tete' daffodils which are short and have tiny yellow bell flowers. They have several flowers per stem and multiple readily. 'King Arthur' are the classic large cupped daffodils which always brighten up spring when everything else still seems to be bare and twiggy. The hyacinths are extremely fragrant in all three colors: white, pink and purple.






Other Flowers:
Primrose, violas and pansies are also available in many colors but can be planted out much earlier then the hydrangea or lilies because they can tolerate a light frost. We also will have many decorative flowering plants such as Floral Chrysanthemums, Begonias and Cineraria in bright spring colors.


| | | | |
| --- | --- | --- | --- |
| Pink Primrose | White Cineraria | Easter Chrysanthemum | Begoinias |